"People will forget what you said.  People will forget what you did.  But people will never forget how you made them feel."  – Maya Angelou
Onboarding is an integral component of the employee life cycle.  The first impression is everything! You've hired top talent, but the next step of onboarding is just as crucial.  Welcoming your new hire and providing them with a memorable and valuable experience on the onset of their journey with you will help guide them in what to expect and what is expected of them.
Onboarding is the process of integrating a new employee within an organization to help them better understand the company, the culture and their role and ultimately sets them up for success as a productive member of the organization and team.
Reflecting back on both my experience as a new hire in organizations and also as a part of the HR team welcoming our new hires, I have picked up a few best practices along the way that were impactful and effective in onboarding new employees from the moment they signed the employment contract to the completion of their first year in their new role.
This onboarding blog series is divided into 3 parts:
Part 1: Pre-First Day Onboarding
Part 2: First Day Onboarding
Part 3: First Month and Year Onboarding
Let's start with some tips and tricks on how to prepare for your new hire before they even start their first day on the job.
Pre-First Day
Welcome email
Send a welcome email to the new hire one week prior to their start date welcoming them to the company and outlining key items in preparation for their first day.  These include:
What to bring
Outstanding employment documentation requiring signatures
Bank information for direct deposit set-up if applicable
What to wear
Provide details on dress code and expectations
i.e. If Fridays are jeans days and your new hire is starting on a Friday, let them know so they don't feel out of place
What to expect
Provide details on who to ask for when they arrive on their first day
Include the agenda/schedule for their first day
Where to go
Send details on start time on their first day
Send a map of the location of the office
Include parking instructions (visitor parking, no parking zones etc.)
Biography
Prior to the first day, ask your new hire to provide you with a quick bio and a photo.  To allow for alignment on the structure of the bio, I have sent a template of questions for the new hire to complete.  This bio, along with the photo, acts as a great introduction of the new hire to the team and company prior to their arrival. On their first day, their bio will help break the ice with their fellow colleagues and will ultimately make them feel more welcome.
Here is one of my bios when I joined a new company.
Set up Buddy/Mentor
To provide a solid support network for the new hire, assign a buddy (typically an employee with 1-2 years more experience than the new hire) and a mentor (typically a Manager) for the new hire.  Having a pre-assigned buddy and mentor will allow for a seamless transition on the first day, week and months of employment as the new hire will have set go-to people to ask their questions and learn from to help familiarize them with the company, culture, people, processes, practices and role.
Set up Workstation
Something as simple as setting up the workstation/office for the new hire, establishes a warm welcome to the company.  This means, not only setting up the desk with standard supplies but also setting up all equipment.  Examples included:
Nameplates
Supplies such as pens, staplers, post-its, paperclips, notepads, file folders etc.
Laptop/computer with email account
Monitors
Phones/locals
Copies of core values/mission/vision, organizational charts, company directory/phone extensions listings, committee listings and members
During my time as an HR Manager in a public practice accounting firm, we had a new batch of hires onboarded every September. During this time, we ensured that all workstations were set up with all standard supplies and equipment.  We also provided a welcome package.  This was our way of welcoming each new hire in a special way.  Each package was a branded lunch bag including the following items:
Welcome card signed by HR and Partners
Branded leather portfolio and notepad
Coffee mug
Branded pen
Chocolate
Schedule of Onboarding
Prior to the first day, consult with the team and respective stakeholders and build a structured schedule for the first week and month of onboarding.  This will help the new hire with introductions to team members and departments/business units and help them to better understand the company, processes, policies and expectations.  Having a schedule ensures that that the new hire is integrated into their new role and company diligently and keeps the team/stakeholders accountable for setting up the new hire for success.
---
Phew! Now that you've prepared for the arrival of your new hire, the next step is onboarding on the first day of employment. In Part 2 we'll review some best practices to leverage in making the first day a success.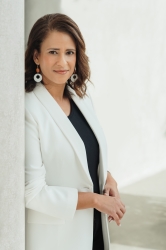 Latest posts by Sofia Arisheh
(see all)