Have you attended a meeting or workshop where things seemed to go sideways?  Have you facilitated a session where participants and discussions seemed to go off on a tangent and get out of control?
As facilitators, one of our key roles is to guide the workshop to ensure participants walk away from the session honing in on the learning objectives. Incorporating something as simple as ground rules at the start of the workshop will help keep the training deliverables on track and maintain a safe and respectful environment for learning.
Ground Rules: How To
Here are some best practices on the how to's of preparing and implementing ground rules into your next training session.

Copyright © Upskill Consulting (2018). All rights reserved.
Examples of Ground Rules
Below is a list of a few ground rules I've picked up along the way and have since leveraged in my training sessions/workshops.
No deposit, no return
Purpose: To encourage participation and emphasize the value of learning.
Question first
Purpose: To avoid quick judgements and instead encourage participants to inquire and ask questions to seek an understanding of what's being said.
ELMO – (Enough Let's Move On)
Purpose: To avoid discussions that go off topic and to guide the conversation onto the next agenda item.
Aretha Franklin – (R.E.S.P.E.C.T)
Purpose: To emphasize the importance of demonstrating respect towards one another throughout the session to build an environment conducive to learning and teamwork.
Airplane Mode
Purpose: To encourage participants to be present throughout the training and to shut out all distractions and remain focused on the learning objectives.
Disney
Purpose: To encourage participants to have FUN!
Vegas rules
Purpose: To highlight the importance of confidentiality of dialogue and happenings within the training session, allowing for a safe and open environment.
Step up and step back
Purpose: To allow for all participants to partake in discussions without some dominating discussions, discouraging others from contributing.
Bahamas moments
Purpose: To encourage participants to get back into the lesson/activity by asking for clarification or for the facilitator to repeat instructions/key messaging.
What are some of your ground rules? Let's hear them!
---
Interested in learning more about our train the trainer courses? Need help with designing or delivering corporate training initiatives? We can help. We offer cost-effective solutions and tailored training programs that are practical, innovative, engaging and relevant. Check out our popular training programs and read our client testimonials on the proven results of our training at https://upskillconsulting.ca/testimonials/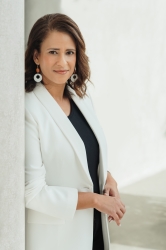 Latest posts by Sofia Arisheh
(see all)