Stay interviews – what are they, and why are they important?
Did you know that 52% of voluntarily exiting employees say their manager or organization could have done something to prevent them from leaving their job? (Source) 
That's a staggering number. Just imagine how you could reverse the damage and cost of turnover by simply listening to your employees to understand their needs better.
As we approach the tail-end of 2022, companies continue to ramp up their retention efforts. While bonuses, higher compensation, improved benefits, and perquisites are a few tactics used, there are also stay interviews. Did we mention that these are also low-cost yet impactful in curbing turnover?
What are stay interviews?
We've heard of exit interviews where companies solicit feedback from employees who have opted to leave. A stay interview is the opposite, with the focus on interviewing existing (not exiting) employees on what matters to them to help companies ultimately decipher, more accurately, what they need to do to retain talent.
Why are stay interviews so important?
There are many benefits to the stay interview. Here are just a few:
It shows your employees you care and are working towards keeping them and meeting their needs
It provides you with clarity on areas of focus to better retain your top talent
It helps you improve the employee experience based on data/facts
It builds a strong workplace culture based on feedback and trust
How do you conduct a stay interview?
It boils down to creating a platform and mechanism for employees to speak up. Stay interviews may be most viable as informal conversations or surveys. There is no cookie-cutter approach to stay interviews. Instead, companies need to determine what mode of communication for the stay interview will garner more robust and transparent intel. After all, companies are asking tough questions and digging deeper to understand employee motivation, engagement, and satisfaction.
Regardless of how you choose to conduct your stay interview, here are some questions to consider:
What about your role gives you the greatest sense of satisfaction?
What do you enjoy most about your role? What do you look forward to most when you come to work every day?
What about your role would you like to change and why?
Do you feel valued at work? Why or why not?
What do you want to do more of/less of in your role? What impact does this have on you, the company, the team, and our clients/customers?
What talents, interests, or skills do you have that we haven't made the most of?
What are 1-3 areas we excel in as a company that contributes to a positive work experience for you?
What are 1-3 areas we could improve on to strengthen your work experience?
What can we do to better support you?
What are some tips to keep in mind?
A few additional tips to consider to ensure your stay interviews are effective at increasing engagement and retention, consider the following:
Explain the why behind the stay interview and communicate how employees can prepare for the interviews.
Leverage the same questions for all stay interviews to standardize the experience.
Keep the questions open-ended and up to a maximum of ten.
Refrain from using the opportunity to discuss other issues or topics such as compensation, performance, bonuses, etc. Keep the stay interviews as just that!
Express gratitude for the feedback.
Share the top trends from the stay interviews and your plans to create an even better company and environment. Employees need to know they are seen and heard!
Stay interviews could be your secret sauce to hanging on a little tighter (and longer) to your top talent. Stay interviews aren't a new trend. But, as companies have dialed up their retention efforts, stay interviews have emerged as a "new" trend in 2022 and will most likely stick around!
---
Remember, we are here to support you in this continued (and evolving) journey of business and the people side of the business. Stay interviews can ensure that your people feel seen and heard.
If you want assistance with conducting stay interviews or require expert advice on HR related matters, visit https://upskillconsulting.ca/ or reach out at [email protected].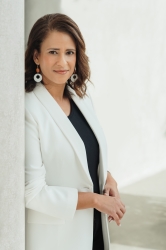 Latest posts by Sofia Arisheh
(see all)