What better way to kick off the beginning of a new year than with a renewed focus on your people.  A successful business is dependent on the effectiveness of your assets, including your people.  Intrinsically, we all want to play a role in the greater good of the company.  Understanding our role and our contributions to the overall success of the company will equate to us taking ownership for the outcomes and the journey to get there.
"Your work is going to fill a large part of your life, and the only way to be truly satisfied is to do what you believe is great work.  And the only way to do great work is to love what you do." – Steve Jobs
Provide your people with a platform to do really great work and enjoy being a part of the success of the team, department and company overall.
Here are some key steps to recharge your staff and instill a renewed sense of purpose in their day-to-day roles.
Solicit their feedback and act on it
Being receptive to feedback from staff is important, but even more impactful is demonstrating a keen interest in soliciting honest feedback and then acting on it.  It is never easy to hear about our missteps, failures and gaps from our front-line staff, middle management and management.  Opening Pandora's box is scary, and employee feedback can be an eye-opener.  However, we have to remember that not soliciting feedback from your people can be costly to your business.  You risk overlooking potential red flags, inherent risks and the residue of not mitigating these issues proactively – potentially losing staff and your clients in the long run.  So be brave, be vulnerable, be inclusive and be transparent with the feedback.
When employees take the time to complete engagement surveys or pulse checks, they have given you invaluable insight into the strengths and areas of opportunity through their lens.  Giving your staff a voice doesn't stop at the 'Submit' button, it goes beyond that.  They need to know that their feedback has been heard and will be taken into account to make improvements.
Communicate often and transparently by sharing the findings with your employees
Commit to your staff by informing them of next steps and your people promise
Lead the way by inspiring change, challenging the status quo and enabling others to act
Leverage employees to participate in guided discussions and work towards developing improvements aligned to the people promises
Show a continued interest in employee feedback and solicit input regularly to challenge the 'this is how it has always been done' mantra
Share progress made towards addressing employee feedback through updates on projects, initiatives and celebrating accomplishments every step of the way
Put them in charge of projects
Malcom Gladwell has said "Autonomy, complexity, and a connection between effort and reward – are, most people will agree, the three qualities that work has to have if it is to be satisfying."  Leadership shouldn't be measured solely by how fast and often we get to the finish line. It's the journey that matters.  A leader recognizes individual skills and talent within their team, leverages these, focuses on growing capabilities and talent and enables the full potential in others.
Invite others to actively partake in important projects and decisions.  Giving your team members the opportunity to develop detailed action plans, lead projects and run with them, grows their confidence and skills as future leaders in your organization.  Not engaging in your teams' passion, drive and intelligence to its full capacity is talent that is lost.
Hold regular team meetings and share current and projected plans, goals, strategic direction
Solicit input and feedback on how to approach and tackle existing and new initiatives
Assess current skills and capabilities and inquire about future career aspirations
Harness their talent to grow their current skills and work towards reaching their career goals
Assign projects and initiatives , carefully guiding them towards a successful outcome
Work with team members regularly to continually build skills and address areas of opportunity
Let go and hand over the reins to transform your people into future leaders
Involve them in brainstorming and decision making
Engaged staff know that their voice and opinions matter and are more willing to share their vision openly.  Neglecting to involve your people in brainstorming and decision making is neglecting to feed opportunities. Approaching decisions and changes as a solo or executive-only led activity, will impede your ability to garner buy-in and trust from your people.  However, the opposite is true when you involve them.  They begin to see their position and opinions as valuable and take ownership of decisions and its outcomes.  They become key players in the road to success.
Develop a detailed roadmap of changes in the pipeline and key deliverables to ensure success
Share the strategic direction and roadmap with staff
Invite them to be a part of the shared vision
Provide a safe, collaborative platform for them to share their insights, concerns and ideas
Engage small cross-functional working groups to translate the roadmap into actionable and tangible steps
Remember that the whole is always greater than the sum of its parts.  Effective companies and leaders take a genuine interest in their people and turn to their staff for new ideas to go beyond the status quo and venture into new unchartered territory.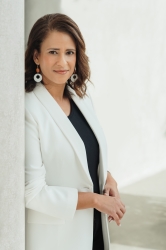 Latest posts by Sofia Arisheh
(see all)