Facilitating a successful workshop, session or training event takes a lot of skill including careful planning and masterful presentation delivery.
Establishing credibility, building energy and rapport, sustaining the participants' motivation to learn, catering to varying learning styles, all while remaining focused on the learner and the transfer of knowledge on the job is no easy task but it is doable.
Early on in my career I dove head first into new territory – the education field.  I landed my first role as a Teaching Assistant, assisting high school students with disabilities.  This was my very first taste of understanding how to tailor and modify curriculum based on the learners' needs and deliver training effectively to meet learning objectives. I took these key lessons on the what to dos and what not to dos with me in my next role where I designed, delivered, implemented and evaluated English as a Second Language (ESL) studies for various private schools.  It was this role that taught me the importance of utilizing a variety of instructional techniques and audio-visual aids to better enhance presentation of information, adapt delivery to support all learning styles and provide learners with the opportunity to actively experiment and apply key learnings in safe environments. During my time in the education field, I saw a need for providing newcomers to Canada, specifically adults, the same experience and opportunities to learn English to assist them with the skills necessary for survival in a new country.  I opened an ESL school that catered to providing English studies for not only children, but adults as well.  This was my introduction to facilitating training with the adult learner in mind.  It was this experience that highlighted the importance of including experiential learning, self-directed, relevancy-oriented, scenario driven techniques to sustain motivation and overcome barriers to learning.
Each experience has been a building block, showcasing principles, techniques, approaches, and best practices to optimize learning.  I have leveraged these key lessons throughout my work experience in industry and consultancy, where I have led the training strategy and direction of these respective firms and/or business units.
To demonstrate effective facilitation skills, I have and continue to deploy the following techniques at each phase of facilitation from pre-training to during training to post-training.
Pre-Training
Practice, practice and more practice
Whether facilitating solo or co-facilitating a session, practice is a necessity. Just like preparation before an important meeting, preparation prior to delivering training is necessary to better familiarize yourself with the content, flow and delivery techniques, ultimately paying off in a seamless delivery of training. While facilitating solo is challenging, it can be even more challenging when co-facilitating a training session. It's an intricate dance, with each step and misstep shaping the fluidity, energy and overall performance.
In my experience of co-facilitating professional skills training for front-line to executive level staff, one thing remained constant and that was that the time investment in preparing for the training was even more crucial and required a heavy time investment up front.
Some key actions that I have found useful to practice and master content, flow and delivery are:
Developing robust facilitator guides

Detailed agenda
Materials required
Logistics and set-up
Identification of activities and processes
Time allotment for course inclusive of breaks, lunch etc.
Indication of facilitator(s) responsible for each section
Key speaking notes inclusive of examples, stories, demonstrations

Dry runs to hone in on further opportunities to improve training and perfect flow/delivery
Inviting colleagues to sit in on practice runs to offer further objective insight into the effectiveness of training content and delivery through the eyes of a participant
Pre-training Engagement
Engaging with learners should not start on the day of training, but instead should start before the training session is designed and delivered. Asking learners to share their thoughts, experience and knowledge allows for personalized tailoring of material to better manage and meet the audience's learning needs, styles, levels and expectations. Involving learners in the material design, content and training activities will lead to better rapport, buy-in, participation and overall learner engagement because they were invited to be active participants in their own learning journey.
Some of the activities I have leveraged to promote pre-training engagement are:
Surveys soliciting opinions on varying topics to incorporate into visually impressive slides/graphs/infographics capturing audience composition
Skills assessments to better gauge learner levels to ensure content is relevant to all learners
Questionnaires to gather concrete examples/observations to build into training activities to promote training relevancy and application
Brief introductory communication
As a facilitator, I've seen tremendous value in introducing myself and the course to the participants prior to the event itself. This is a great opportunity to prepare participants for what's to come and even more importantly, to provide clarity on the importance behind the upcoming training session. I've typically carried this out in an email format and have included the following key items:
Logistics

Date and time of training
Location of training

Target audience
Overall purpose of training session
Desired learning objectives
High level agenda
Pre-work items
Contact information
During Training
Confidence builds as you continue to put into practice your facilitation skills.  Along the way, I've learned that regardless of industry, target audience composition or training topics, it is important to demonstrate creativity and adaptability into your lesson.  Reflect back on a training session you had that you would like to wipe out of your memory.  Did you have to engage in a standard icebreaker to get to know each other?  Did you have to sit for hours listening to a dry PowerPoint presentation read word-for-word on each slide?  Did you have to participate in a lecture-based training session with little to no interaction or activities with your colleagues?
It's been said that a first impression is typically made within the first 7 seconds of meeting someone.  Making a good impression in those first 7 seconds may be easy, but sustaining that good impression is no easy task.
To keep participants engaged throughout the session, allowing for robust dialogue and interactive learning, resulting in meaningful reflection and application of learning on the job, I integrate the following key best practices during the training.
Detailed agenda
Throughout my experience in delivering training, I have discovered that adult learners don't view agendas as a nice-to-have but a must-have.  The agenda provides the learner with a sneak peak on the purpose of the training and the process to meet overall deliverables of the session.  The agenda not only prepares the learner for what's ahead, it also ensures that learners are focused on the task at hand at any given point.
When preparing an agenda, I always communicate the following:
The purpose of the training session, answering the 'what's in it for me?'
The overall training objective, explaining what the expectations are post-training
The process, defining the flow and activities
Relevant Icebreakers
Typical training sessions involve an icebreaker at the start of a session to introduce participants and to form team dynamics and rapport.  While the intention is good, often times participants dread these icebreakers and view them as an awkward exercise, adding little to no value in the training.  To avoid this, I carefully choose icebreakers that help connect the dots with the training objectives and content.  This serves two purposes – allowing participants to get acquainted and also introducing the topic at hand.
When choosing and delivering an icebreaker, I do the following:
Choose an interactive, engaging and creative icebreaker to set the stage for the remainder of the training session
Introduce the icebreaker, communicating that there will be a debrief after the icebreaker to tie it into the lesson
Ensure movement, discussion and interaction during the icebreaker
Set time aside for a debrief of the icebreaker to explain relevance to training and engage in group discussion
Incorporation of variety of training mediums
It's been said that we remember 90% of what we say and do. Providing opportunities for participants to partake in hands-on application of newfound skills is critical for retention of training and post-training application of skills on the job. These activities should be a mix and match of individual, pair and group work to promote higher engagement and knowledge sharing amongst participants. Incorporating a variety of training mediums will also cater to the various learning styles of your audience.
Here's a sample of training mediums I incorporate into training sessions:
Flipcharting

Whiteboarding

Videos

Live polling

PowerPoints (avoiding death by PowerPoint!)

Participant guides

Case studies

Scenarios

Role playing
Post-Training
The training is over but the continual upkeep and re-evaluation of the content, flow, delivery is far from over.  An experienced facilitator understands the importance of evaluating the training, soliciting feedback on what worked and what didn't work. Identifying the strengths and weaknesses of the training will ensure a higher return on investment for future sessions with the ultimate goal of ensuring that skills taught during training are being applied on the job. It's never easy to hear what went wrong in your training session but de-personalizing the feedback and shifting focus to fine-tuning or revamping future training to meet audience needs is what separates an average facilitator from one that is fully invested in and committed to the learners and training outcome.
Some of the techniques I've utilized to solicit feedback are:
Surveys having participants rate the training environment, content and delivery immediately following the training
One-on-one interviews with random participants to inquire about training and post-training application
3 month post-training follow-up questionnaire to assess application of skills on the job
Facilitation is an art form requiring creativity, discipline, adaptability, engagement and a range of skills and knowledge to be able to take raw content and translate it into strengthened skills and abilities that each employee can ultimately apply on the job.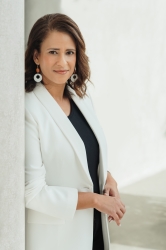 Latest posts by Sofia Arisheh
(see all)