Mark your calendars – October 17th, 2018 is the date that recreational use of cannabis becomes legal across Canada. The question is – does the legalization of recreational use of cannabis change anything for employers? It's a hot topic and it has been a challenge keeping up with continuous new developments.
As an HR Consultant drafting employee policies for my clients, it has been imperative to keep up-to-date on this topic and specifically wrap my head around what this means for workplaces. With recreational cannabis being regulated at the federal, provincial, municipal and private levels, it can be confusing. From attending informative workshops on the topic of cannabis in the recent months and weeks, I've put together the listing below to help employers with getting prepared for the upcoming changes in the workplace.
Relevant Legislation to Consider:
Case Law to Review:
What You Can Do to Prepare:
If you already have an existing drugs and alcohol policy, then make a few revisions to now include cannabis.

Where your policies currently read drugs and alcohol, add keywords like "cannabis" and "cannabis accessories".
If you do not have policies on drugs and alcohol, then ensure you draft a workplace policy and give notice to employees prior to implementation. Your policy should clearly state the approach to dealing with all matters of substance use – whether recreational or for medicinal reasons.
Do your due diligence as an employer by updating/creating your policy, communicating the policies to all employees, providing training and gathering employee sign-offs confirming receipt and understanding of policies.
Put up signage stating that smoking and cannabis and cannabis accessories are prohibited on the premises.
What to Keep in Mind:
The bottom line is employees are not permitted to be impaired on the job regardless of whether the impairment is a result of alcohol, drugs, prescription drugs or cannabis. No employee is to be impaired, negatively impacting their ability to perform their job.
Each employee incident pertaining to drugs, alcohol and cannabis use must be analyzed individually. There is no one size fits all performance measure in addressing alcohol and drug violations.
As an employer, you have the duty to inquire. If you notice that an employee may be impaired, you have the duty to follow up for the protection and safety of the employee, fellow employees, clients and public. You are obligated to prevent the undue risk to the worker or anyone else.
If your company operates from various provinces across Canada, keep in mind that each province and municipality will have their own differences when addressing recreational cannabis. Be sure to review each jurisdiction and its rules prior to drafting your policies.
While October 17th marks the legalization of recreational cannabis in Canada, it does not have to be an overwhelming and daunting challenge for workplaces. Just be proactive and keep up with changes in the coming weeks and months as Canada continues to iron out details.
---
One of our many HR services includes policy and procedure development for our clients. Check out this testimonial from one of our clients:
"We are a relatively small organization with a diverse group of employees. As our operations grew, our Policies and Procedures (P&P) manual became outdated and misaligned to current organizational practices. As a small organization, we did not have the time nor subject matter expertise required to undertake this project. Therefore, we partnered with Sofia Arisheh from Upskill Consulting to revamp and roll out our policies in multiple jurisdictions. Sofia Arisheh was able to do a thorough needs assessment and lay out an appropriate approach to update and supplement all of our P&P. In addition, Sofia recognized that several key policies were not present but required/recommended to align with business practices and comply with respective legislation. We were also provided with a comprehensive internal communication policy for executive buy-in and employee roll-out. Dealing with HR matters effectively can be difficult at the best of times and even more difficult in a small organization where there isn't a dedicated HR professional. Sofia/Upskill was very professional in all of our dealings, kept us on track throughout the process and provided high quality deliverables on time. The experience with Upskill was excellent from start to finish. Sofia is very professional and really knows what she is doing. She put us at ease throughout the project. We would recommend Sofia Arisheh and Upskill Consulting without hesitation."
Contact us to learn more about how we can develop personalized and tailored workplace policies to meet the complexities of your business and industry. Link: https://upskillconsulting.ca/contact/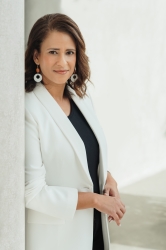 Latest posts by Sofia Arisheh
(see all)