A new year marks a new beginning.  As I reflect back on 2018 and the exciting journey into the world of consultancy, entrepreneurship and blogging, I can't help but think about what got me here today.  Remember it's every step in your journey that carries life's important lessons – the good, the bad and the ugly.
Looking back on my personal and professional journey, here are some of my key lessons and practical insights on how I have chosen to approach my day-to-day – both at work and at home.

Be present
Savour the now! I'm sure you've often asked yourself where the time has gone.  I too have had many moments wondering how time has escaped me.  While I choose to live my life with no regrets, I have looked into my children's eyes and flashed back to their years as babies, toddlers, preteens and now teenagers.  How? How has the time passed so quickly?
I choose to be fully present in the now and rather than focusing on what could have been or what ought to happen, I continue to try to focus all of my energy and attention on the task at hand.  Whether this is conversing with a colleague, completing an assignment, delivering a presentation, engaging in a hobby or spending time with my loved ones, I am fully present, fully aware and fully thankful.

Be authentic
As Brené Brown, author, researcher, professor, has said, "Authenticity is a daily practice. Choosing authenticity means cultivating the courage to be emotionally honest, to set boundaries, and to allow ourselves to be vulnerable".  Wearing your heart on your sleeve is not easy especially for those of us who have an insatiable desire to be loved by everyone – and I mean EVERYONE! Just the thought of it sounds exhausting!
I've learned that it's okay to be you.  Be you, be true to yourself and accept yourself – flaws and all!  In my career, I have managed and led teams, some dynamic and some toxic, and have chosen to do so authentically.  When I am new to a team, I am genuinely interested in learning more about the people.  I take the time to build team rapport.  Not only do I ask questions to get to know them better, but I also open myself up to shed light on who I am.  Daily, I choose to be transparent on trials and tribulations of projects, invest the time to build each member and engage in interactions that are real and meaningful.  This is relationship building at its best.  Remember, as leaders you are on stage every day.  How you choose to approach everything you do matters.  Being genuine, transparent and honest goes a long way to build credibility and trust.  People do have a sixth sense for inauthenticity, and oftentimes can detect it a mile away.  So I challenge you to be vulnerable and simply be you.

Be resilient
Own your story – the ups and the downs.  While we all celebrate the successes that come our way, we tend to overlook and sometimes even ignore the failures.  But why?  It's my biggest failures that have taught me the most about myself.
Early in my career, with two little toddlers in tow and no previous business experience, I went all in with opening a small business.  I was surrounded by a network that showed unwavering support and encouragement.   I was successful in my first year, even my second.  However, when the economic downturn hit in 2009, my business was impacted.  I just couldn't keep afloat, the business began to slip through my fingers.  It simply didn't survive.  Rather than wallowing in self-pity, despair and defeat, I picked myself up, dusted myself off and chose to not be defined by that moment.
Handing in my keys on the final day of business didn't break me.  Don't get me wrong, it was incredibly emotional and difficult but it was this business that taught me so much about myself and others.  I  learned about hard work, team work, collaboration, client service, running a business and so much more. As Henry Ford once said "Failure is simply the opportunity to begin again, this time more intelligently."  Our journeys will have detours.  There are lessons in all moments of failure – these are sometimes our greatest learning opportunities.

Be appreciative
Success isn't a solo activity. Along our journeys, we have been blessed to have learned from the people who have walked the journey with us.  We all have encountered truly inspirational people who we look up to, never forget and try to emulate moving forward.  We also have encountered those who fell short, and from them we have learned what not to do.  Appreciate these moments with those who have played a part in shaping us and helped define us in our careers.
I've pushed myself a little farther each time, each time because I had someone else who knew I could.  I have been so lucky to have had many mentors in my life … all of whom invested time and energy in helping me develop and grow professionally.  They lent a listening ear, pushed me to be my best and gave me the confidence to dream big.  Their lessons have and will continue to guide me in my journey.
So I leave you with this …
Be present, authentic, resilient and appreciative.
Cherish and savour each step, big or small, and know that these will pave the path and reveal a new horizon and valuable lessons in this journey we call life.
---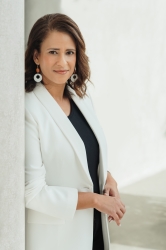 Latest posts by Sofia Arisheh
(see all)