Almost every success I have had in both my life and business is a direct result of the incredible people in my network. A powerful statement, but 100% true. My network has helped me land new jobs to advance in my career, partake in committee and volunteer work, supported and advised me on business and big decisions, and provided me with an abundance of learning and growth opportunities.
This last year I made a commitment to step out of my comfort zone and attend more networking events. While I classify myself as an ambivert (a mix of introverted and extroverted), I, like many others, dreaded attending these networking events. What questions should I ask? Who should I speak to? Where should I sit? How should I introduce myself?
What I've learned is that networking is a core business skill that helps us cultivate social and professional relationships. Whether this is a skill you want to develop for personal reasons or required to develop as part of your business development expectations, it's a key skill to develop. As Richard Branson says "Succeeding in business is all about making connections." I couldn't agree more.
Networking has become an integral component of my professional life. Most recently, I have launched a networking group (The Fraser Valley Breakfast Club) in our local community. The purpose?
To recognize, promote and support one another
To make meaningful connections
To pursue growth and learning
To support local charities
This networking event has epitomized the positive power behind networking. Here are the 5 lessons learned from our networking event.
The Breakfast Club Event: November 27, 2019
Networking Lesson #1: Authenticity Draws People In
Be you, be genuine. People pick up on authenticity instantly. How many times have you been at a networking event where the person you're talking to is looking elsewhere to find their next target/person to talk to? This screams disingenuous and will result in a dead-end road to that connection. Or how many times have you been at a networking event where the first question you are asked is "What do you do?". Once answered, there are no follow-up questions to really get to know you. Again, this is a connection that won't go beyond the event and won't flourish into a valuable future connection.
At our networking event, I observed people asking questions that went beyond the "What do you do?". I heard conversations about:
Pets
Families
Sports
Hobbies
Food
Shopping …
Also, as part of our launch of the networking group, we opened the floor to others to give them a platform to share what they wanted (and didn't want) in a networking event. We kept it real and stayed true to our word. They spoke. We listened. The result has been a successful networking event upon its very first launch.
Getting to know people at a deeper level makes every connection matter. It's all about going beyond the business card and being authentic in every interaction.
Networking Lesson #2: Genuine Relationships Require Work
It's the follow-up and follow-through that cements a network. It's one thing to meet multiple people at an event and collect a stack of business cards, and it's a completely different thing to actually do something with those connections made. To build that network that you can rely on for support and advice, requires that we work hard at continuing to build the relationship over time.
We just completed our second networking event and what I noticed was that we had many of the same attendees from the first event. They came out to continue to meet those in the room that they didn't have an opportunity to meet at the last event and to build our community and "family" here in the Fraser Valley. The attendees didn't show up just once, thinking that was enough to build their network. They returned for the next event to continue to build, expand and establish a solid network.
Networking Lesson #3: Actions Speak Louder than Words
To build a meaningful connection and relationship, trust is inherent. Trust can only be built if you deliver on promises made. How many times have you heard this ….?
"I'll connect with you next week for coffee." (yet you don't hear from the person)
"I'll send you the article/resource/information tomorrow." (yet you don't receive any communication)
"I'll see you at the upcoming event." (yet he/she is nowhere to be seen)
What I noticed at our networking event was follow-up coffees and communications were taking place. To get to know one another at a deeper level, attendees were organizing coffees/lunches/meetings to continue their conversations, get to know each other to offer valuable support in their respective businesses. This only happens when true connections are made and this is the sweet spot where the value and power of networking comes to light. It's where the magic happens.
Networking Lesson #4: Building a Community Is Powerful
We are stronger together. There's a purpose behind networking events that goes beyond the networking. Typically, there is a deeper meaning behind the event. Perhaps giving back to the community, sponsoring an event/cause etc. You can make a small dent in these initiatives solo, but can make a huge impact if you had a group behind the cause.
At our networking event, one of our three main pillars is community involvement and giving back to local charities. As a group, we have the power to bring positive, measurable change to our communities. Through our donations per event, we are supporting a local charity, giving back to the community we owe so much to. Beyond the donations, I observed first-hand the power of a community. When the event ended, every one stayed to help clean up, with some packing up the leftover food and delivering it to those in need in Vancouver that night.
"The greatness of a community is most accurately measured by the compassionate actions of its members". Coretta Scott King
Networking Lesson #5: It Takes Time
It takes a village to have a successful career. That village isn't built overnight. It takes time and patience. It requires showing up at events, following-through with commitments made, building the relationship over time to make it mutually beneficial.
At our very first networking event, we had a guest speaker who shared the art of networking. To truly engage with others, aim for the quality of the conversations and network rather than the quantity. I have seen this lesson play out at our events, where attendees connect with a handful of people, having deeper and meaningful conversations. This takes time to establish deep human connections both at the event and post-event. As opposed to, working the room to hand out as many business cards as possible to grow the size of your network on LinkedIn the next day.
Get out there! Step out of your comfort zone! Who knows? Networking could lead to bigger opportunities, form lasting connections and strengthen your support system.
"Deep human connection is the purpose and the result of a meaningful life – and it will inspire the most amazing acts of love, generosity, and humanity." Melinda Gates
---
To learn more about Upskill Consulting and our Human Resources (HR) services, please visit https://upskillconsulting.ca/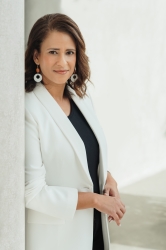 Latest posts by Sofia Arisheh
(see all)