One of the outcomes of COVID-19 has been the almost overnight transition to a virtual workforce. As a result, this has forced many of our businesses to re-evaluate and re-imagine the way we deliver our internal training. Providing these internal training offerings are an integral part of how we support our employees to continually develop in their skills and careers.
Working with clients, specifically over the past few months, I have seen that as the dust has begun to settle with operating in a virtual environment, the area of focus has shifted to "How do we now offer our training virtually?". With internal training typically offered throughout the year, creating a powerful remote learner experience that promotes learning, retention and ultimately application of training on-the-job is essential.
Here are four tips on making the seamless transition from in-person to virtual training.
Virtual Training Tip 1: Adapt in-person training to online learning delivery
While it is possible to shift all trainings virtually, adopting a phased approach will allow you to separate the "wants" from the "needs".
Be clear on what to transition to virtual learning.
Evaluate each training workshop and begin to decide which ones are most conducive to online delivery and are of the highest importance or return on investment at this time.
Create interactive and engaging virtual content

Online training should engage learners and to do this virtually, it must be live, interactive and in shorter modular offerings, preferably 2-hour time slots.
Virtual Training Tip 2: Create a high-quality virtual learner experience
Creating an engaging learner experience is not easy to achieve face-to-face, and it's even more challenging when you take it online. Get your learners involved before, during and after the training to promote a higher level of interactivity and engagement, translating into better retention and application of learning.
Provide pre-work to set the foundation for learning

With shorter bursts of training of 2-hour workshops, providing learners with structured pre-work in advance of the training session is a great way to prep your learners with key concepts and a foundational understanding of what's to come during the training.

Send post-training emails with outputs

Capture all outputs of the training session, including discussion points, poll results and white boarding and send this to all learners as part of a tangible resource package with additional resources (readings, videos, links) to continue to hone in on the skills taught.

Reinforce training with check-ins and opportunities to put into practice new learnings

Successful training is reliant on whether the training has been reinforced to help learners fully transfer these skills into their day-to-day execution. Learners forget approximately 75% of what they learned within a week if it's not reinforced (Source)
Virtual Training Tip 3: Explore alternative learning strategies
Either as reinforcement or a substitute to your virtual trainings, get creative with how you encourage your employees to learn. Leverage various internal resources, from peers to leaders within your firm. Empowering others to knowledge share and mentor others will help create a culture of collaboration. Some of the alternative learning strategies could include:
Buddy system for new hires
Peer-to-peer teaching
Job shadowing or on-the-job training
Learning or cohort groups
Virtual Training Tip 4: Train the trainers to deliver virtually
Delivering top-notch, high-quality virtual training requires exceptional delivery. It's imperative that your in-house trainers are set up for success to pivot their training delivery to one that is conducive to online facilitation. The ultimate goal of any training is to ensure that the learner walks away from your sessions being able to apply skills taught. To do this, trainers must be trained on how to navigate the virtual space for training offerings. Some of the core skills required to successful train online could include:
Prepare for logistics of the virtual session including pre, during and after session best practices
Understand and fully leverage technology
Modify content to allow for interactivity virtually
Gauge digital body language to assess engagement levels
Manage questions and energy throughout the session
"Learning is an experience. Everything else is just information" Albert Einstein.
To successfully train your staff, the training must be customized, relevant and interactive to hold the attention of the learners and even more importantly, to ensure that the training is applied immediately following the session. You are often given less slack in a virtual setting and therefore honing in on some of these best practices will help you turn your in-person training into effective and engaging virtual learning experiences.
This article was originally published for The Canadian Accountant
---
About Sofia Arisheh
Sofia Arisheh is a firm believer that the secret to a winning business is the investment in your people. She is a Human Resources (HR) strategist, leader, advocate and educator. She draws from her extensive experience in the corporate and HR sectors to inform and inspire audiences to adopt a people-centric approach to business.
A lifelong learner at heart, Sofia's passion lies in learning and development. Her interactive training workshops, delivered to various stakeholders from front-line staff to top executives, are motivating, practical and results-driven.
As keynote speaker and master trainer, Sofia delivers dynamic, engaging and impactful presentations to help audiences understand how to build and strengthen their people practices to drive business results. Her highly customized content and captivating delivery style fosters an environment of collaboration, knowledge sharing and participation creating an immersive, engaging and highly effective learning experience for audiences.
Her mission is to help companies think, act and operate in a people-first culture.
Keynote Topics & Workshops
Below is a listing of some of the training workshops offered by Upskill Consulting. These trainings could be tailored for lunch and learns, half-day or full-day workshops, either face-to-face or virtually.
Change Management: Driving Change that Lasts
Conflict Resolution: Dealing with Conflict Head On
Employee Engagement: Building an Actionable Framework
Ideation: Kick-Starting Creativity and Innnovation in the Workplace through Icebreakers
Impactful Communications: Transforming Information into Memtorable Visuals
Mindful Communication: Tailor, Adapt and Engage
Performance Feedback: Giving Feedback that Inspires
Succession Planning: Building Your Bench Strength. Who's Next in Line?
Train the Trainer: Techniques to Strengthen Your Workplace Training
Workplace Mentoring: Unlocking the Potential in People
For Inquiries & Bookings
For inquiries on training or to book Sofia for your next corporate training workshop/event, please contact us.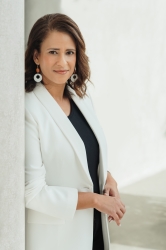 Latest posts by Sofia Arisheh
(see all)