New York Times' next best-selling book:
The Year of 2020.
It started with a captivating introduction filled with positivity, hope, and an eagerness for a new beginning – a new decade full of opportunities. This was swiftly disrupted by an unpredictable plot twist. COVID-19. The vast seven billion characters of this 'book' had to adapt to the ever-changing circumstances and establish a universal team dedicated to solving this plaguing plot.
The Year of 2020
elicited the importance of community support, creativity during constraints, and the remarkable resilience of the human race. This 'book' was brimming with surprises, setbacks, and successes alike, and had an end like no other. Undoubtedly,
The Year of 2020
will become a monumental piece of history, often looked back on and shared with the many generations to come.
It was quite the start to a new year and new decade – one that none of us could have anticipated. Despite all of the challenges, there have been so many lessons learned along the way and many things worth celebrating. Here are the 20 things I learned in 2020 that apply to both work and our personal lives:
We are more resilient than we think.
People matter.
There is no substitute for empathy.
Make well-being a priority.
Let go of what you can't control.
Get your ambition and passion back.
We can accomplish more together.
Encourage and harness innovation.
Celebrate those wins (regardless of how small).
Don't sweat the little stuff.
Look forward, not backward.
Ask for support, we were never meant to do it alone.
Pause and take a moment to enjoy the little things.
Demonstrate candor, admitting what you know and don't know.
Listen more and with the intent to really listen.
Engage with others with both purpose and humility.
Communicate, communicate, communicate (with frequency, with intention, with clarity).
Embrace missteps as these could be our biggest opportunities.
Don't assume someone is fine, ask "How are you?".
Show gratitude.
This past year, through my work with clients, they never ceased to amaze me with their ingenuity and ability to pivot (quickly) and operate in a new world with little to no know-how on how to proceed. Through my conversations with my network, friends, family, I too was always humbled by the way in which people hung onto hope and tried to find the silver lining – even if it required a bit of digging!
2020 has shown us that we have grit, we are resilient and together we can make it through. "Keep on swimming, keep on swimming" as Dory from 'Finding Nemo' said.
As I reflect back on this year, I am beyond thankful for your support, collaboration and partnerships! I am truly humbled and grateful!
Now onto 2021!
---
If you are looking for support in your Human Resources needs in the new year, we're here to help. Contact us!
Website: www.upskillconsulting.ca
Email: [email protected]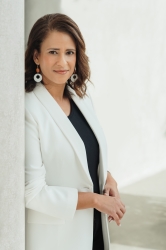 Latest posts by Sofia Arisheh
(see all)