We know that change is inevitable in any and EVERY business, regardless of size or industry. We operate in a faster-moving world, where in order to keep up, and better yet compete, we need to welcome change. It's how we manage and adapt to change that can make all the difference.
I have worked in many industries where in order to navigate in the ever-accelerated changes, we had to manage change successfully. This meant being strategic and methodical every step of the way, engaging in various purposeful activities to garner buy-in at every stage.
I have taken many of those lessons in change management and applied it to various change initiatives I lead today. Forming a new networking group here in the Fraser Valley was no exception!
So what change management aspects were applied?
The launch of our networking group was a success. Why?
Communicated the Why
To create that awareness and buzz for the upcoming official launch, we knew we had to be clear with our purpose.  We had to create a thoughtful and impactful message to help people to see the why behind joining this newly formed group. We established answers to these core questions:
Why do we need a networking group here in the Fraser Valley?
What's in it for the participants and for our community?
What's our personal story for creating this networking group?
Formed a Vision
To have a vision, we knew we had to create a compelling picture of what the future of this group would look like and what targeted activities we would carry out to make our vision a reality. We established answers to these core questions.
Why is participating in this networking group so important?
What is the end-state goal?
What will we need and do to get there?
What do we need from YOU?
Here was our vision and core values:

Copyright © 2019 – Upskill Consulting. All rights reserved.
Created a 'Volunteer Army'
To build that momentum in our community, we knew we couldn't do this alone. We needed to leverage the expertise and passion of those in our network. This new networking group would only be possible with a group or volunteer army supporting it and keeping it at the forefront of their efforts moving forward to build our networking group and community initiatives. We established answers to these core questions.
Who will help us guide and build this group?
Who can we collaborate with in our local community to help propel this initiative forward?
What strengths can each person bring to the table to help us grow and establish this new networking group?
What ideas do they have to ensure a long-term successful networking group?

We provided participants with a questionnaire to complete and facilitated a guided discussion on what they needed and wanted from a networking group here in our community.
So what's the learning lesson?
Soliciting feedback from participants prior to the official launch of our networking group was impactful and appreciated by those who attended. In the workplace we have to understand that managing change is not a one-way street. It must include employee involvement as an integral component of successfully rolling out change. Without ideas generated by employees, you risk operating in a linear thinking business, while your competitors are leaps and bounds ahead, not only keeping up with changes, but leading and transforming changes in the industry.
For more information on communicating change, check out our blog on 'Communicating Change: The Keys to Success': https://upskillconsulting.ca/2018/07/31/communicating-change/
---
Visit our website to learn more about the HR services we offer at Upskill Consulting.
https://upskillconsulting.ca/services/
Sofia Arisheh, Principal and Lead HR Consultant
Email: [email protected]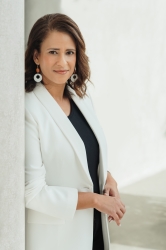 Latest posts by Sofia Arisheh
(see all)