"You are always on stage. Your misplaced time and attention is not a neutral act. No news is never good news. No news kills the very behaviours you want to multiply."

"First Break All the Rules: What the World's Greatest Managers Do Differently" by Marcus Buckingham
I remember the day like it was yesterday. I was walking into a company on my first day as Manager, and everything was new – the company, people, position, and role. Those first few weeks and months were daunting as I worked hard to learn the ropes, rally the team, meet deliverables, and perform in my new role. One month goes by, two months go by, three months go by, and no formal discussion was had about my progress, contributions, or performance.
During one of my informal discussions with my boss, I decided to solicit feedback and ask, "So, how am I doing? Any feedback on what I could do differently?" His response was, "Don't worry about it! No news is good news!" Those words stuck. While his intentions were good, when I heard "no news is good news," I heard:
"I don't have time to give you feedback."
"I'm not going to bother recognizing your accomplishments and hard work."
"You're not valued or appreciated in this role."
Invested leaders engage with their people, sharing both good and bad news more readily. Here are some simple tips on how you can be more transparent in your communications with your people and teams:
Celebrate Wins, Small or Big
According to Psychometrics, when asked 'What could leaders do to improve engagement?', 58% of respondents replied, "Give recognition". (Source)
"69% of employees say they would work harder if they felt their efforts were better recognized."

(Source)
As employers, we want employees to perform by consistently meeting objectives and delivering on expectations. As employees, we want to feel valued and appreciated for our work, resulting in feeling a part of the organization's success and working harder to drive results.
To improve engagement, leaders must celebrate wins as this keeps everyone in the loop on the progress of work/projects and keeps everyone motivated to get to the finish line. It's about showing them that you care; you notice their hard work and appreciate them for it!
Say Thank You
A simple thank you goes a long way. It takes almost no effort, yet the power of a thank you has a powerful impact on those on the receiving end. It reinforces that their contributions matter and they are a valuable member of the company and team. So say thank you and write thank you, whether through conversations, personalized notes, or emails.
Make time for feedback or feed-forward
96% of employees say that they want to hear feedback regularly. (Source)
How can we expect our people to perform, and even more so, get better if we don't provide them with continual feedback? So it's time to go beyond the annual review and establish a culture around continual feedback, eradicating the common philosophy of no news is good news.
Seize all opportunities to give feedback or feed-forward (guidance on future goals/performance/skills). For example, when managing my teams, I set up recurring weekly and monthly touchpoints to ensure that the lines of communication remained open, and I did my part in being transparent. These touchpoints would be my opportunity to celebrate wins, discuss challenges, introduce upcoming projects and provide feedback and/or guidance.
The bottom line is – No news is good news is not leadership. Leadership is a conversation – it's being brave to have those conversations, whether easy or difficult. Connecting and interacting with your people, showing them an appreciation for their work, and providing them with coaching and feedback leads to a culture of respect and engagement.
"Clear is kind"

Brené Brown
---
As a keynote speaker and master trainer, Sofia delivers dynamic, engaging and impactful presentations to help audiences understand how to build and strengthen their people practices to drive business results. Her highly customized content and captivating delivery style fosters an environment of collaboration, knowledge sharing and participation creating an immersive, engaging and highly effective learning experience for audiences.

Inquire about one of our most popular workshops on "Mindful Communication: Tailor, Adapt and Engage."

Workshop Summary:  
  
There is no one-size-fits-all with communication! We all communicate differently and often the first step in strengthening our interpersonal skills is exploring our own strengths and areas for development. In our day-to-day interactions, both in our workplaces and in our personal lives, we communicate with others, sometimes successfully and other times not so successfully. So how do we better understand others and respond more effectively? 
  
 Sofia Arisheh will walk you through four communication styles and will share some of the key characteristics of each style to learn how we can better adapt our communication to meet the needs of others. 

Learning Objectives:

- Understand how perception plays a role in how we choose to communicate with others
- Appreciate the importance of exploring communication styles and its value to the team
- Recognize the different communication preferences and key characteristics of each
- Identify techniques and strategies to cater to varying communication preferences 
Find out more by visiting our website at www.upskillconsulting.ca or email us at [email protected].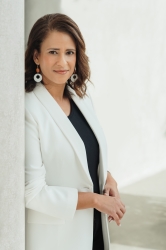 Latest posts by Sofia Arisheh
(see all)