Leaders do not avoid, repress, or deny conflict, but rather see it as an opportunity. ~ Warren Bennis
Working in a highly unionized environment, presents unique challenges when it comes to fostering open communication and promoting personal well-being. This blog aims to address the dynamics of multiple unions and the historical cultural context that can impact the implementation of people-centric leadership practices. Additionally, it explores the importance of open communication, understanding personal limitations as a leader, and prioritizing self-care to maintain mental health in the face of conflict and challenging situations.
The Significance of Open Communication with Leaders: 
Open communication is essential for building trust, resolving conflicts, and fostering a positive work environment.Conflict is inevitable in every work environment. Therefore conflict management is a critical skill in navigating disputes that arise.  In a unionized setting, leaders must emphasize and model open communication practices. This involves actively listening to employees' concerns, providing constructive feedback, encouraging dialogue, and creating opportunities for collaborative problem-solving. Transparent and honest communication helps address misunderstandings and reduces potential conflicts.
Conflict Pro Tips:
Leaders seek first to understand.  Ensure you have as much information as possible before moving into problem solving mode.

Leaders are aware of their body language, facial expressions, tone of voice, pacing of the conversation, and it is generally recommended to listen more than speak.  

Leaders have strong boundaries and know when it is appropriate to collaborate on solutions with team members and when it is time to be directive

. 
Understanding Personal Limitations as a Leader:

 
It is crucial to recognize and understand your own limitations as a leader. This includes being aware of your strengths, weaknesses, and triggers that may impact your ability to remain open and engaged. Knowing your boundaries helps set realistic expectations, delegate tasks effectively, and seek support when needed. Understanding the systems you are navigating in your workplace is also imperative. 
Conflict Pro Tips:
Leadership involves having a holistic understanding of your whole being – meaning that you have self-awareness of what you can and cannot manage and how that impacts you physically, mentally, spiritually, and in relation to others.  Is there something a team member does that upsets you?  Leaders self-reflect on what is upsetting and do the necessary work to understand, resource, and find solutions.  Sometimes it's a "you" (personal)  problem, and sometimes it's a "both of you" (interpersonal) problem.  Either scenario is an invitation to grow and move forward positively.  

Everyone, including leaders, deserve support to find answers.  We highly encourage building your own support team: coaches, consultants, therapists, spiritual care providers, medical professionals etc. 

Leadership requires that you are able to hold both your own reality and experiences with those around you/ the workplace environment.  

Leadership honours humanity – meaning that you don't have to 'leave all your stuff at the door' like we were taught when we were younger – you can honour where you are and maintain professionalism.  Just be mindful of boundaries with your personal matters; there are appropriate and inappropriate outlets. 
Practicing Self-Care for Optimal Well-Being: 
Supervising a team and managing conflict can take a toll on your mental health if self-care is not prioritized. It is essential to establish self-care routines and strategies that promote well-being. This may include setting boundaries between work and personal life, engaging in stress-reducing activities, seeking support from peers or mentors, and accessing resources like counseling or therapy when necessary. Taking care of your own well-being ensures you can effectively support your team and navigate difficult conversations.
Conflict Pro Tips:
Leadership involves action: don't just talk the talk with self-care. Actively practice it.  

Leadership includes role modeling: leaders set the example for others to follow and are highly influential in the overall company structure and systems.  Your team is watching you. 

Leadership recognizes the unique stressors and demands on leaders and prepares for both proactive self care as well as responsive self care. 
Managing Conflict and Difficult Conversations: 
Conflict and difficult conversations are inevitable in any workplace, and leaders must have the skills to manage them effectively. By applying principles of conflict resolution and effective communication, leaders can navigate challenging interactions. Handling conflict effectively involves active listening, empathy, maintaining a calm demeanour, and seeking win-win solutions. Understanding the dynamics of multiple unions and the historical-cultural context can also help address conflicts with sensitivity and fairness.
Conflict Pro Tips:
Leadership involves the practice of active listening. Genuinely show interest and listen intently as opposed to listening to respond. Ask questions to dig deeper.

Know that language is everything. Not only what you say but how you say it matters. Use neutral and accountable language, be clear and focus on the issue, not the person.

Mine for conflict. When leaders sense conflict is brewing, get ahead of it. Take on a proactive approach to dealing with the dispute.

Handle conflict promptly. Do not shy away from having difficult conversations. To avoid conflict morphing into a much larger problem, handle it within 24-48 hours of discovering the dispute/conflict.

Show compassion and empathy to yourself and those involved in the conflict. Acknowledge that conflict is difficult and show up with a people-centric approach, looking for a win-win where

everyone feels like they have gained some value or benefit from the outcome. 
Navigating a unionized environment requires a delicate balance between people-centric leadership, open communication, and personal well-being. By prioritizing open communication practices, understanding personal limitations, and practicing self-care, leaders can create a positive work culture that supports employee well-being and facilitates effective conflict resolution. Embracing the challenges and opportunities for growth in this context can contribute to a more harmonious and productive work environment for all.
---
We acknowledge that this blog was written on the lands and the traditional territories of the people of the Treaty 7 region in Southern Alberta, which includes the Blackfoot Confederacy; comprising the Siksika, Piikani, and Kainai First Nations, as well as the Tsuut'ina First Nation, and the Stoney Nakoda; including the Chiniki, Bearspaw, and Wesley First Nations. The City of Calgary; MOH-KINS-TSIS, is also home to Métis Nation of Alberta, Region 3. We are also grateful to live and work on the traditional, ancestral, and unceded territories of the Coast Salish peoples, the  səlil̓wətaʔɬ (Tsleil-Waututh), Skxwú7mesh (Squamish) and xʷməθkʷəy̓əm (Musqueam) Nations.
We recognize the Land itself for its importance in ensuring a prosperous past, present and future for its Indigenous peoples.
This blog has been written by:
Sofia Arisheh, BA, CPHR, CLC – Principal and Lead HR Consultant and Facilitator (she/her)
Sofia Arisheh from Upskill Consulting is a sought-after keynote speaker, trainer, Human Resources (HR) consultant, and coach. With over 15 years of experience developing and delivering robust training and Human Resources strategies for small, mid-sized, and multinational companies, she has vast experience in all facets of business and people. She brings a Strategic Human Resources perspective to her work, helping organizations link business objectives with the needs of their people. Her mission is to help companies think, act and operate in a people-first culture. She draws from her extensive experience in the corporate and HR sectors to inform and inspire companies to adopt a people-centric approach to how they lead and conduct business. 
Here's a little fun fact in the spirit of curiosity and relationship building. Self-care as a leader is critical. Some of her most creative ideas often pop up when she's in nature. You can catch her hiking the local trails. It's not only the physical benefits of hiking that speak to her, but also the mental and emotional benefits. Spending time in nature and with others evokes connection, well-being, calm and peace. 
Sofia Arisheh
@upskillhr
Lauren Gaudet, BA, MSW, RSW – Clinic Director, Registered Social Worker/Counsellor (they/she)
Lauren Gaudet from Held Humanity Counselling and Social Services Inc. has been in the social work field for over 10 years working in various capacities and roles.  Lauren believes that long-term positive benefits are gained and maintained through a strong professional relationship that is co-created and focuses on the connection between mind and body.  Blending compassion and curiosity with neuroscience and evidence-based practices, Lauren's goal is to meet clients where they are, understand their therapeutic goals, and to support the process collaboratively.    
In the spirit of curiosity and relationship building, here's a little fun fact: one of the most impactful lessons Lauren learned early in their leadership journey was when they received feedback from their supervisor that their team of 6 perceived them to be "failing" as a leader.  Instead of being fearful of the feedback, Lauren spoke to each team member individually to understand the issue [seek first to understand], and learned that their approach to team meetings was too "laid back" and needed structure (agendas, visualizations, written plans: instructions and steps) [get ahead of the conflict]. At the next team meeting the issue was clearly addressed as Lauren honored that their leadership style was not fitting with the team's needs [accountability and open communication].  Lauren promptly made adjustments to meet the team where they were at and saw the immediate benefits.  
Lauren Gaudet
@heldhumanitycounselling 
---
Need HR assistance?
Upskill Consulting is here to help you strengthen your teams and streamline your HR processes. With more than 15 years of experience serving growing companies with training, consulting and HR services, we're here to roll up our sleeves and get to know your business and your people so we can offer tailored solutions that make a difference. Get HR consulting that works!
Let's Connect! Schedule your free consultation here: https://upskillconsulting.ca/contact/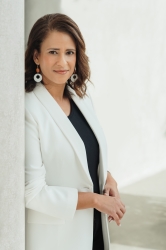 Latest posts by Sofia Arisheh
(see all)