We acknowledge that this blog was written on the lands and the traditional territories of the people of the Treaty 7 region in Southern Alberta, which includes the Blackfoot Confederacy; comprising the Siksika, Piikani, and Kainai First Nations, as well as the Tsuut'ina First Nation, and the Stoney Nakoda; including the Chiniki, Bearspaw, and Wesley First Nations. The City of Calgary; MOH-KINS-TSIS, is also home to Métis Nation of Alberta, Region 3. We are also grateful to live and work on the traditional, ancestral, and unceded territories of the Coast Salish peoples, the  səlil̓wətaʔɬ (Tsleil-Waututh), Skxwú7mesh (Squamish) and xʷməθkʷəy̓əm (Musqueam) Nations.
We recognize the Land itself for its importance in ensuring a prosperous past, present and future for its Indigenous peoples.
---
"Trust is the glue of life. It's the most essential ingredient in effective communication. It's the foundational principle that holds all relationships." – Stephen Covey 
Trust is earned. If you want to be trusted, you also need to extend it. Trust is a two-way street, allowing all involved to make better decisions, perform and build stronger relationships. In the workplace, we have all experienced it or encountered it – leaders who are overwhelmed, drowning in their workload and yet refuse to leverage and delegate work to their team. Through working with and coaching these leaders over the years, our question is, "Why are you hanging onto the work"? Their answer is, "I just don't trust that they will get it done or get it done right".
We must remember that our role as leaders is to motivate and inspire our people. Research shows that when a high-trust culture exists, employee engagement is 76% higher! There can be significant consequences if you create a culture void of trust, often leading to a demoralized, disengaged, and disempowered environment.
"Turnover Tsunami", "Resignation Boom", and "The Great Resignation"…we've experienced it and we continue to face challenges around recruitment and retention. As leaders, we must "build the kind of work environment that attracts, focuses, and keeps talented employees". (Marcus Buckingham, "First Break All the Rules: What the World's Greatest Managers Do Differently"). Every behaviour and every action does one of two things: either contributes to trust or diminishes trust.
Here are some ways leaders can better attract, develop, and retain talent by building, instilling, garnering and sustaining trust with those around us.
Exemplary Leadership = Be Consistent 
Do what you say you'll do. Not once, not occasionally, but all the time. It's consistent behaviour that will earn and build trust.
"What you do every day matters more than what you do once in a while." – Gretchen Rubin
What are my company values, and do I consistently follow them in words and actions?

Which tasks or behaviors are most difficult for me to be consistent with? 

Which tasks or behaviors are the easiest for me to be consistent with?

Have I recognized colleagues for being consistent and committing to a healthy workplace culture that fosters trust? [If that individual is comfortable being recognized – know your team.]
Exemplary Leadership = Model the Right Behaviour and be Accountable
You're on stage and "leaders get the behaviour they exhibit and tolerate." ("Execution: The Discipline of Getting Things Done" by Larry Bossidy and Ram Charan). Use good judgment in your actions and hold both yourself and others accountable for those standards. There's no denying that your company's culture is a direct result of the behaviour of you and your leaders. Do you walk the talk?  Your team is watching. 
Remember that you and your team members are humans first.  Anticipate that there will be moments where something gets missed and a rupture of trust may occur.  It's how you respond to this that will repair and find the right solution or create an even more significant break potentially leading to more severe consequences.  The most effective leaders are excellent communicators and have both the ability to account for their own actions as well as their teams'.
How do I personally hold myself accountable as a leader?

How do I invite my team to hold me accountable as a leader? 

How do I hold my team accountable?

How do I encourage my team to hold each other accountable?

How do I handle when a rupture of trust occurs?
Friendly reminder: You are not alone! There are always resources available for leaders to enhance their current skill sets and add to them.  
HR Experts and Consultants

Mental Health Experts such as Registered Social Workers, Registered Counsellors, and Registered Psychologists

Business/Leadership/Mindset Coaches and Consultants

Spiritual Care Providers 
Exemplary Leadership = Show Up, Be Present
Now, more than ever, we need to take the time to connect with our people. Being behind the scenes, staying in your office, or being detached will not result in your people trusting you. Instead, get to know your people, ask questions, engage in dialogue, and see every encounter as an opportunity to build relationships and rapport with your people.
Seek first to understand – take time to observe, ask the right questions, inquire and gather information, have a dialogue. 

Do ask:

How are you?

and actually mean it. Listen to their response.

What and who are your other resources you can provide your team if you are not able to meet their needs or they have a personal matter affecting work that needs support? 

Set intentional time throughout the day to connect with your team in genuine ways. 

Encourage your team to take breaks and eat meals together. And, also respect your team members who may need extra alone time. 
Trust is Foundational
To sum it up, a recent Harvard Business Review study found that three key factors that drive trust in leadership include consistency, good judgment, and positive relationships. 
We know that trust is not just a building block but a foundation of a great company and relationship. During these continued times of change, we need to step up to the plate and demonstrate leadership behaviours that instill trust and confidence in us and, while doing so, also invest more trust in our people to develop their talent and retain them.
"If developed and leveraged, [this] one thing has the potential to create unparalleled success and prosperity in every dimension of life. Yet, it is the least understood, most neglected, and most underestimated possibility of our time. That one thing is trust." – Stephen R. Covey
What do you do to build, instill and sustain trust in your relationships?
---
This blog has been written by:
Sofia Arisheh, BA, CPHR, CLC – Principal, HR Consultant, Coach and Facilitator (she/her)
Sofia Arisheh from Upskill Consulting is a certified HR strategist, coach, leader and educator with over 15 years of extensive experience in multiple sectors. Her mission is to help companies think, act and operate in a people-first culture. Sofia helps businesses build stronger teams and foster supportive work environments through training, coaching and consulting. She works with clients to lead with purpose and build companies that represent who they are and who they aspire to be.
In the spirit of curiosity and our topic of exemplary leadership, here's a little fun fact: Having worked in various industries and for many leaders, Sofia has seen the good, bad and ugly sides of leadership. As a leader, she was committed to leading authentically and building solid relationships with those around her. She took her team members (not just those on her team, but all team members) out for coffee/lunch to learn more about them and engage in deeper conversations that expanded beyond just work. She followed up with individuals on what she knew – "How was your child's soccer tournament? Did they win?", "How is puppy training going?", "How has your hiking season been? Which hikes have you been on?" etc. The moment you engage in human-to-human connection, you see faces light up. She firmly believes that how you show up (not sometimes but all the time) is your personal brand. What do you want to be remembered for?
Sofia Arisheh
@upskillhr 
Lauren Gaudet, BA, MSW, RSW – Clinic Director, Registered Social Worker/Counsellor (they/she)
Lauren Gaudet from Held Humanity Counselling and Social Services Inc. helps her clients become experts in their internal experiences through blending compassion and curiosity with neuroscience and evidence-based practices.  Lauren's goal is to meet clients where they are, understand their therapeutic goals, and to support the process collaboratively. With over 10 years experience working in various capacities and roles, Lauren believes that long-term positive benefits are gained and maintained through a strong professional relationship that is co-created and focuses on the connection between mind and body.     
In the spirit of curiosity and relationship building, here's a little fun fact: Lauren worked as a social worker in long-term care for 5 years supporting older adults with advanced dementia and complex care needs.  They had the pleasure of working with a musical leadership team who at lunch hour would play ukuleles and sing songs to the Residents of the home as a special "extra" to brighten the residents' day.  Sharing joy consistently was a highlight.  It was also notable that on days where extra help was needed on the floors that prioritizing more urgent team needs was met before playing music.  
Lauren Gaudet
@heldhumanitycounselling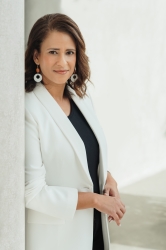 Latest posts by Sofia Arisheh
(see all)